V‐Bank HEPA Filter ‐ Box Type
V‐bank box type HEPA filters use sub‐micron glass fibers formed into a high‐density paper.
Glass filament separators are used to form the media into mini‐pleat panels that withstand high‐velocity airflow.
Mini‐pleat packs are sealed to the frame with two‐component polyurethane to increase rigidity and prevent bypass leakage.
Standard Size & Performace Parameters
| | | | |
| --- | --- | --- | --- |
| Type: | VB‐E11 | VB‐H13 | VB‐H14 |
| Class EN1822 | E11 | H13 | H14 |
| Efficiency EN1822@ MPPS [%] | >95% | >99.95% | >99.995% |
| Initial‐ΔP[Pa] at nominal airflow | 125 | 220 | 250 |
| Rec. final pressure drop [Pa] | 600 | 600 | 600 |
| Max. temp. [°C]  | 80 | 80 | 80 |
Model
(E=efficiency N=V quantity)
Width
Height
Depth
Nominal
airoflw
[m3/h]
V quantity
VS592592292‐E (E11‐H14) N5
592
592
292
3400
5
VS592592292‐E (E11‐H14) N4
490
592
292
2800
4
VS287592292‐E (E11‐H14) N4
287
592
292
1700
4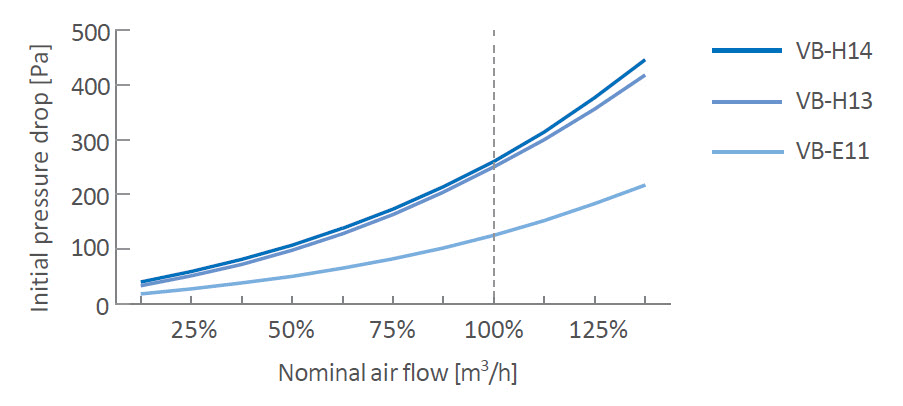 Frame
▪ galv. steel
▪ stainless
Spacers
glass fibrestrings
Filtermedia 
high quality glass fibre paper (water resistant)
Options 
foamed gasket on the inlet air side