Bag Filter - Fine Dust
Bag fine filter is mainly used to filter and remove ≥1μm dust particles in air
conditioning system, protect the subsequent sub‐high efficiency or high efficiency filter and prolong their service life. Based on different filter performance requirements, the filter media of bag filter may be multi‐layer compound synthetic fiber bucket materials, synthetic fiber non‐woven fabrics of different thicknesses, glass fiber cotton, etc. The efficiency stays constant even with varying airflows. Also, the bags are intrinsically stiff while being exposed to the airstream. Inrder to guarantee a proper stability even with over‐size filters.
Standard Size & Performace Parameters
Type:
BF‐F7
BF‐F8
BF‐F9
Class EN779
F7
F8
F9
Average efficiency (Em)
for 0.4μm particles 
80% ≤ Em < 90%
90% ≤ Em < 95%
95% ≤ Em
Initial‐ΔP [Pa] at
nominal air flow
110
120
185
Model
(D=depth/E=efficiency)
Dimensions [mm]

Nominal air flow [m³/h]
Pockets quantity
Width
Height
Depth 300 [mm]
Depth 500 [mm]
Depth 650 [mm]
BF592592D‐E (F7‐F9)
592
592
1570
2620
3400
8
BF490592D‐E (F7‐F9)
490
592
1300
2160
2800
6
BF287592D‐E (F7‐F9)
287
592
790
1210
1700
4
BF287287D‐E (F7‐F9)
287
287
400
660
850
4
BF592892D‐E (F7‐F9)
592
892
2360
3930
5100
8
BF287892D‐E (F7‐F9)
287
892
1180
1970
2550
4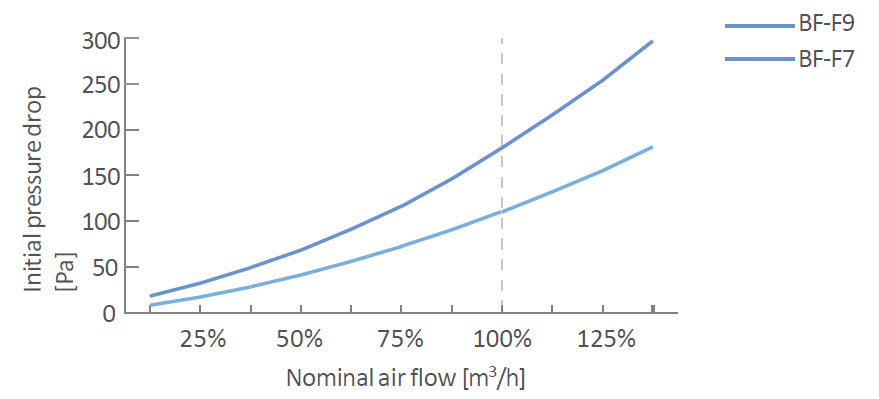 Frame
▪ galv. steel
▪ Aluminum
Operational conditions 
max. rel. h. 100 %, max. temp. 70°C
Filtermedia 
▪ Progressive synthetic fibre
▪ Glassfiber
Options 
▪ Various customized sizes
▪ foamed gasket onto front frame